ARSENAL JSCo. - Kazanlak is a distinguished multi-functional infra-structural Company with leading positions in the National Economics and with great experience in design, manufacturing, engineering and trade in military and civilian products.
ARSENAL JSCo. was founded in 1878 in Rousse as the first factory meant to serve the newly created Bulgarian Army.
In 1924 due to some strategic considerations the factory was transferred to Kazanlak by the law of the National Assembly and was given the name of State Military Works for production of cartridges and repair of all military equipment for the needs of the Army.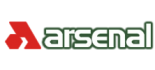 Cannot find what you are looking for?
Send us a request from HERE and we shall do our best to find the machine you need!