"ZMM Vratsa" Plc was found in 1964 and during its over forty year long history has been specializing as manufactures of machines exported to more than 60 countries all over the world.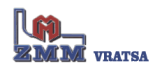 Cannot find what you are looking for?
Send us a request from HERE and we shall do our best to find the machine you need!